Arizona-based V.I.P Mortgage, Inc. announced that loan originator, Michelle Milliron, has ranked as one of the top 1% of mortgage originators in the nation, by Mortgage Executive Magazine.
Michelle Milliron is a Senior Loan Originator at VIP Mortgage. She has built her business by providing expert home financing advisement, outstanding customer service and her focus on building relationships for life, with her clients and business partners.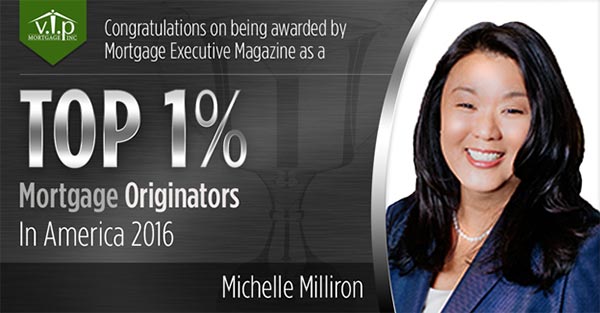 "We are proud and excited that Michelle has once again been recognized for her exceptional performance. She certainly sets a high standard of excellence," said Jay Barbour, President and Founder, VIP Mortgage. "This achievement can be attributed to the incredible collaboration and communication between her and her team and her absolute commitment to helping her clients achieve the dream of homeownership."
Michelle Milliron and her team are located at 9221 East Via de Ventura, Scottsdale AZ 85258. The team can be reached at (602) 430-4763.
Categorized in: News, Uncategorized